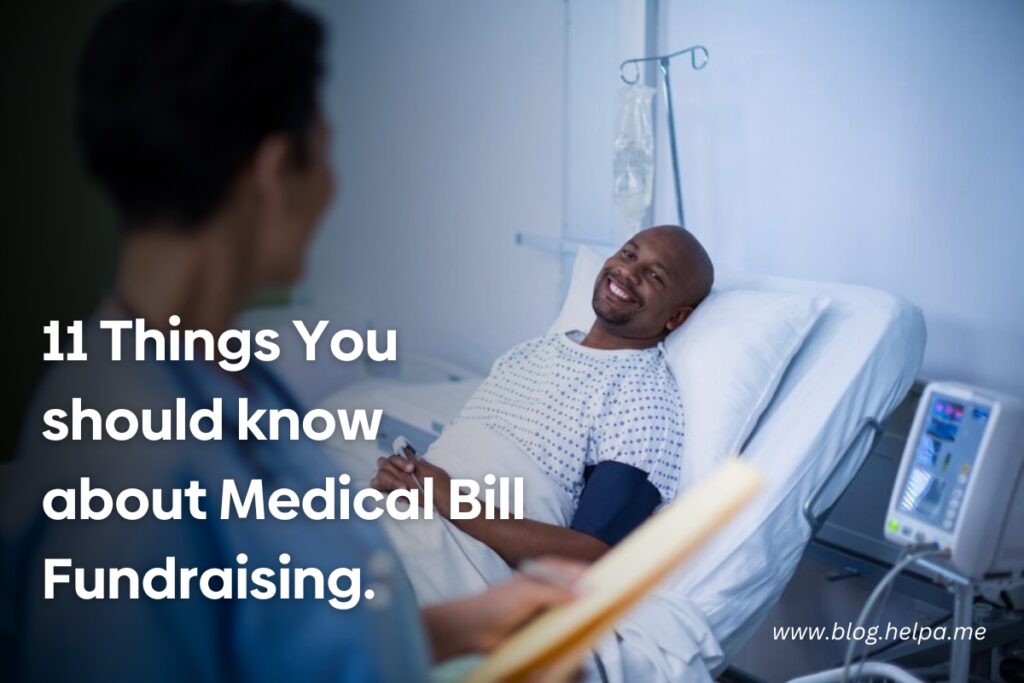 Before you know about the 11 things required for medical bill fundraising, medical crises can be devastating. This is by considering that there are always high medical bills for people with critical health emergencies or grievous injuries. Apart the worries you may have about the medical bills, seeing your loved ones in pain is not easy. Moreover, you or someone close to you may need help paying medical bills particularly when unexpected health tragedies strike. Thus, the significance of medical bill fundraising as a remedy for you or close friends or family to assist and step in in making a difference in improving their health and lives.
What is Medical Bill Fundraising?
By definition, medical bill fundraising or medical bill crowdfunding is an alternative approach through which individuals like you or institutions use in generating funds needed for high cost medical treatments. This ranges from cancer treatments, NICU care, transplant of bone marrow, open heart surgeries to any other serious diseases. Medical bill fundraising comes in handy especially cost of treatments are high and where insurance policies are not enough to cover everything you may need for the treatment.
Who needs Medical Bill Fundraising?
People that need medical bill fundraising are individuals, families or close friends who could not afford medical bills or expenses not covered by their insurance policies. Also, patients fighting life threatening health problems or chronic diseases generally may require medical bill fundraising.
The Benefits of Medical Bill Fundraising
Since medical bill fundraising is mostly necessary for you, friends or family who could not afford the high cost of medical bills for their treatment, the benefits of fundraising in this regards cannot be overlooked. First, medical bill fundraising provides financial relieves which cover medical expenses that are overwhelming for the concerned persons and ease the burden attached to such medical bills. Medical bill fundraising can also provide you or loved ones emotional support alongside the financial aid from support community.
11 Things You Should Know About Medical Bill Fundraising
Whether it is for your benefit or that of your family or loved ones, there are certain things you should know about medical bill fundraising. Hence, the major eleven out of the things you should know about medical bill fundraising are:
The Purpose of the Medical Bill Fundraising
The main purpose of medical bill fundraising which is to pull support particularly funds from the community should be clearly identified and stated. It is through the purpose, you share your story in details in the medical bill fundraising campaign. This will establish an emotional connection with the targeted audience. This will also make it easier to get financial support.
Accountability
Having stated the purpose of the medical bill fundraising, it is paramount to make use of the funds raised for such purpose. On this premise, you must hold yourself accountable by using the funds raised to settle the medical bills, update the community (donors) about how funds were expended by keeping an accurate record of the medical expenses.
Transparency
Another important thing you should take note about medical bill fundraising is that you should be transparent about the whole process of medical bill, expenses, the condition of the patient and others.
Fundraising Platforms
Today, you do not have to go door-to-door for medical bill fundraising. Hence, you should know about the different online fundraising platforms particularly those, which can reach large number of donors easily to raise your medical bill funds.
Legal Compliance
You should know that there are always legal considerations in place you must comply with for your medical bill fundraising. By this, you must make sure that your medical bill fundraising campaign is in compliance with any laws or regulations in place on medical bill fundraising and fundraising generally.
Tax Considerations
You should also know about the tax issues in place as regards medical bill fundraising. It is usually recommended you consult a tax professional to guide you, so you can know and comply with the tax implications of receiving and donating for medical bills.
Privacy Protection and Security
Although there should be exercise of transparency and accountability, you should nevertheless be careful of the extent to which you do so in medical bill fundraising. You should always take into consideration the privacy of the patient or your privacy (if you are the patient) in order to protect sensitive information about your treatment. Also you need to ensure that the medical bill fundraising platform offers secure transactions.
Promotion and Awareness
While trying to use a fundraising platform for medical bill fundraising, you need to create awareness and promote the campaign for faster donation. You can do this by using social media platforms and other channels that will make reaching larger easier.
Engagement with the Support Community
As part of the transparency role, you need to ensure there is a routine engagement with the support community and donors with regards to medical bill fundraising. This also includes regular updates on medical expenses, swift answering of questions and sending a personalized thank you messages and acknowledgment notes on the medical bill funds.
Targeted Funds
You need to take note of the targeted amount required from the medical bill fundraising. This is by stating the needed amounts clearly and stating the purposes they are meant for. This includes a reasonable estimation of unexpected medical bills that may arise therein.
Alternative Methods
You should know that medical bill fundraising using fundraising platforms is not the only method of seeking and getting assistance. You can also thread alternative methods such as insurance, government aids or aids from charity organizations among others.
Conclusion
Knowing the eleven things above in medical bill fundraising will successfully aid in settling the high cost of medical treatments for yourself or your loved one. Apart from the strategies involved, the eleven things stated here are paramount for you to know whether as the concerned patient or family or friend to the patient.Are you now prepared to create a medical fundraising?
I recommend you use Helpa for your healthcare crowdfunding effort. It's free to create an account as an individual or an NGO.